If anyone knows the answer to this one, they aren't saying.
The RSAT tools are a collection of management tools that allow administrators to manage a server or servers from their desktop workstation in the same way that the would if they were logged on locally.
Microsoft has made RSAT tools for the Windows 8 release preview available, but we haven't seen anything to suggest that the RSAT tools will be made available for Windows 7.
We won't know what the true story is until Windows 8 and Windows Server 2012 RTM in late October, but my suspicion is that we won't see a set of remote administration tools for Windows 7. We didn't see a set that allowed admins running Windows XP to manage Windows Server 2008, so not providing them for older operating systems does have a precedent.
This means that admins are either going to need to update their workstations to Windows 8 if they want to use the RSAT tools or they are going to have to use Remote Desktop Connection to make a remote connection.
Whereas the Windows 8 Remote Desktop Connection (RDC) has functionality that allows administrators to bring up "charms" through a remote connection – unless there is an update coming to RDC on Windows 7 – you won't be able to access this functionality from a Windows 7 client.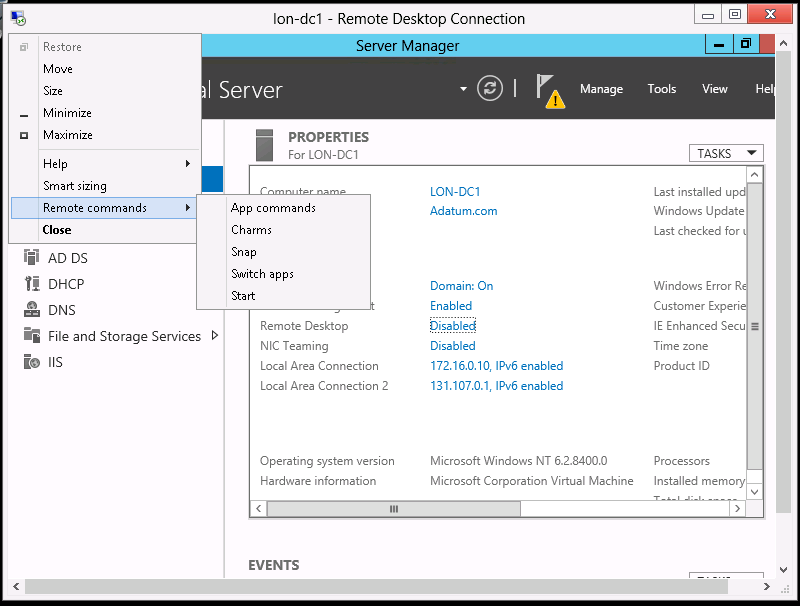 Klaas from the Remote Desktop Virtualization team indicated in response to a previous post I made on the topic that the size of the area that brings up the new Start screen had been increased – but I still find that target rather hard to hit when I'm trying to get the Start menu open – my twitter feedback indicates that I'm not the only one in this particular boat.
I do think that Windows Server 2012 is hands down Microsoft's best server operating system release. I suspect though that while many orgs will be happy with Windows Server 2012, they will be reluctant to adopt it if they feel it also requires them to adopt Windows 8. While we don't know either way if Microsoft is going to release some Windows Server 2012 RSAT tools for Windows 7, it would be nice if they did as it would be a pity if some IT pros avoided Windows Server 2012 because of their unease about Windows 8.