When Windows Server 2012 R2 came out, it was intimated that there was going to be a new release cadence when it came to Microsoft products. No longer would we wait 3 to 5 years for a "revolutionary" Server release. Instead releases would come out more frequently, and be more "evolutionary".
When we first heard about Windows 10, that still seemed to be the narrative. Windows 10 certainly has new features, but the feature differential felt like an evolution of Windows 8.1. A technical preview for Windows Server was released around the same time as the technical preview for Windows 10.
In December I created a course for PluralSight titled "Windows Server vNext First Look" You can view it here: http://www.pluralsight.com/courses/windows-server-vnext-first-look. Putting it together involved going through the Server vNext technical preview and all the information that had been released on TechNet and at TechEd Europe to try to figure out what the new stuff in the next version of Windows Server was.
After putting together the course, my feeling about Windows Server vNext was that it some cool features and was a logical evolutionary step forward from Windows Server 2012 R2. The improvements in Hyper-V, Failover Clustering, and Storage Replica were noteworthy and worthwhile enough for people to choose the new server OS when it is ready over Windows Server 2012 R2, which has developed a fairly solid reputation
Like others I was expecting the technical preview to be polished up into a final product and released concurrently with Windows 10.
Then the news came out earlier in the month that Windows Server vNext wasn't going to drop with Windows 10. Windows Server vNext was coming out early next year.
Having played around with the technical preview and having, perhaps unreasonably, adopted a certain set of expectations about what was going to be in the product, I was flummoxed. Sure, there was some stuff that wasn't in the technical preview – stuff like Windows Server vNext functional level domains, which would allow things like group membership TTL (so that accounts added to a group only retain membership for a limited amount of time) – but the intimation given the talks at TechEd Europe was that everything people were talking about that wasn't in the product was only a few updates away.
Clearly not the case.
Things became a lot clearer to me after watching Jeffrey Snover and Rick Claus do the TechDays keynote. You can watch it here: http://channel9.msdn.com/events/Future-Decoded-Tech-Day-2014/TechDays-Online-2015/Microsoft-Corporate-Keynote-and-Interview-Jeffrey-Snover
The bit that I'd really like to draw your attention to is the slide that starts getting built up from the 27 minute mark. I've taken a screenshot.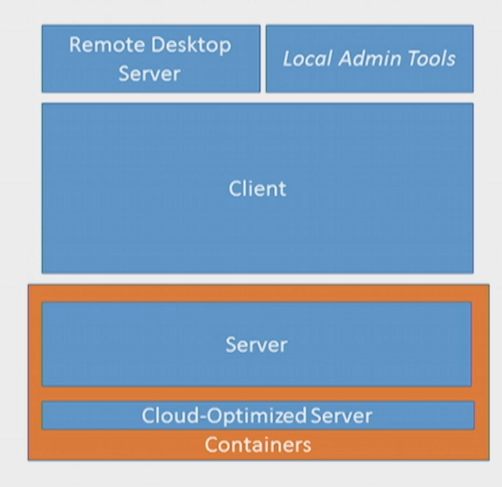 A quick glance at that slide and you'll understand that Server vNext isn't a small step up from Windows Server 2012 R2, it's actually a giant leap up from Server 2012 R2. Server vNext might superficially look very similar to Windows Server 2012 R2 (at least the technical preview does) – but underneath, it's looking as though the internal structure is almost radically different.
Specifically note that the Containers area encompasses both Server and Cloud-Optimized server. That the Client area sits on top of that Containers area. And that Remote Desktop Server and Local Admin Tools are separate and sit on top of the Client area. From my interpretation of Snover's commentary, there will be two application profiles:
Applications that target the existing set of APIs will interact with the Server area of the diagram
Applications will also be able to target a subset of those APIs which are represented by the Cloud-Optimized server area of the diagram
Snover also makes it clear that the Client area is distinctly separate from the Server area. An earlier part of the session discusses how in the past there wasn't much difference between Client and Server (think changing a registry key in Windows NT4) but that going forward, the distinction is going to be as clear as night and day.
It's also important to note that this TechDays presentation is an overture to the deeper information that's going to be presented at BUILD and IGNITE about how all these elements fit together. That at this point we have seen some of the puzzle pieces, but that it will be the information presented at BUILD and IGNITE that will allow us to see not only the big picture, but how all the puzzle pieces fit together.
Expect some pretty comprehensive analysis and commentary to be published on this site during and after both events.
---
Orin Thomas is an MVP, an MCT, a Microsoft Regional Director, and has a string of Microsoft MCSE and MCITP certifications. He has written more than 30 books for Microsoft Press on IT Pro topics including Windows Server, Windows Client, SQL Server, Exchange, and System Center. He is an author at PluralSight and is a contributing editor for Windows IT Pro. You can follow him on twitter @orinthomas