: @orinthomas

Internet Explorer 9 Tracking Protection is an updated form of InPrivate Filtering. InPrivate Filtering was a little known mode in IE 8 that allowed you to block third party websites once they had tracked you across a threshold number of sites during a browsing session. Tracking protection allows you to block third party analytic sites that track your browsing activity across multiple sites.

You can handle tracking protection manually, or you can download an ad-on from a tracking list provider such as adblock plus. Using tracking lists isn't something that will remove advertisements from Internet Explorer, but it will stop data being sent back to tracking providers about your browsing session.

To enable Tracking Protection on IE9, open the Manage Add-Ons dialog box and select Tracking Protection. From here you can click on "Get A Tracking Protection List" online. You can have more than one Tracking Protection list enabled at any one time.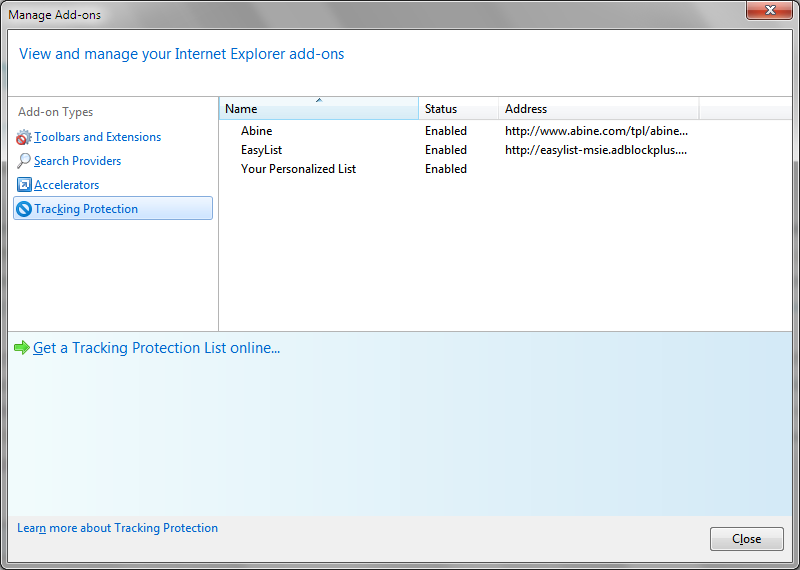 By default you can't block the display of all advertisements in Internet Explorer the way you can in FireFox through Add-Ons, but will never be able to do directly in Chrome because the creators of Chrome are of course in the business of selling Internet Advertising. Tracking Protection Lists are a neat way of blocking the most maliciously invasive sites on the web – they're just something that most people never find out about because they don't bother digging about in the Manage Add-Ons dialog box of IE

--
My new book: Windows Server 2008 R2 Secrets. It is a book for experienced Windows administrators who are new to Windows Server 2008 R2 and don't need a lot of basic introductory level material: